Ranthmbhore National Park India
The former hunting ground of the Maharajas of Jaipur, the Ranthambore National Park is situated in Eastern Rajasthan at the confluence of the Aravali hill ranges and the Vindhyan plateau. Two rivers flow t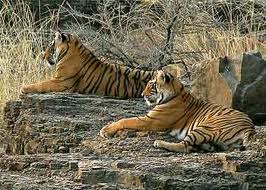 hrough the Ranthambore National Park - the Chambal River in the South and the Banas River in the North. Six man-made lakes and many perennial streams pass through the entire national park. In 1955, the Ranthambore National Park was declared a game sanctuary; and in 1980, it attained the status of a national park. With the initiation of Project Tiger in 1972, it was declared as a tiger reserve in India. The total area of the Ranthambore National Park is 1,334 sq km along with its adjoining sanctuaries - the Kaila Devi Sanctuary and the Mansingh Sanctuary. The typical feature of the park is that out of the entire park some areas are open for the tourists to wander in and explore the flora and fauna of the park. The Ranthambore National Park is nestled between the Aravali and Vindhya mountain ranges. The rugged terrain and the dense deciduous forests are major features of this national park, which has among the the largest and most diverse collection of wildlife species in India.

Wildlife in Ranthambore National Park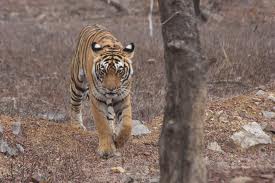 The tigers enjoy their hegemony in the national park. The Ranthambore National Park is also ideal for taking the snapshots. The rich and diverse variety of flora and fauna includes 300 trees, 50 aquatic plants, over 300 species of birds, 12 reptiles and 30 mammals. Apart from the tiger, the tourists can also observe Sloth Bear, Wild Boar, Chinkara, Porcupines and Jackals, Leopard, Jungle Cat, Marsh Crocodile, Sambhar, Chital, Nilgai, Gazzelle, Boars, Mongoose, Indian Hare, Monitor Lizards and a large number of birds. Most of these wild animals can be spotted near the lakes and water holes during the evening. Ranthambore is home to both resident and migratory bird population. There are about 264 bird species found within the park.

Tigers in Ranthambore National Park
There are about 36 tigers and 40 leopards in the Ranthambore Tiger Reserve. Observing the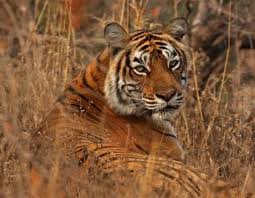 activities of this mighty and powerful creature is a lifetime experience. Tigers can be spotted easily in their natural habitat during daytime particularly at the confluence of three lakes-Padam Talab, Raj Bagh Talab and Milak Talab. The park also has a large number of panthers seen in plenty after the tigers at Kachida Valley and commonly seen at the outskirts of the park.

Special Attractions in Ranthambore National Park

Flora in Ranthambore National Park
The national park is dotted with ancient Banyan Trees, Dhok and Pipal trees, mango trees and the green belts covered by the trees. The Ranthambore Wildlife Sanctuary has the two extremes - forests and open bush land. The dry and deciduous forests are dominated with the Dhok trees.

Ranthambore Fort and Jogi Mahal : With an area of 392-sq-kms, this park was named after the Ranthambhore Fort that occupies the principal position in the centre of the national park. This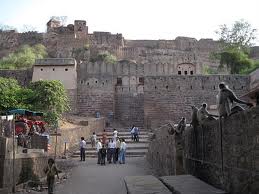 10th century fort built by the Chauhans, is probably the oldest existing fort in Rajasthan and particularly in the Malwa plateau. The forest rest house, Jogi Mahal houses the second-largest Banyan tree in India.

Excursions in Ranthambore Park
The tourists can also plan for the nearest excursions from the Ranthambore National Park. Sawai Madhopur Village near the national park is known for its historical monuments. Karauli and Bundi are other tourist place famous for its temples and architectural marvels. Kota (100 km) has a number of tourist places like the City Fort and Palace, Kota Barrage, the Kishore Sagar Tank, the Jagmandir Palace, the Brij Vilas Palace Museum etc. Tonk that lies at the same distance is also another must visit.

General Information
We recommend you to take the light cotton garments while visiting Ranthambore national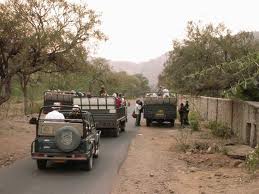 park during the hot summer months. Suitable woollens should be taken for the winters. The tourists have to pay the entry charges for the hired vehicle, guide and photo equipments.

There is a limited entry in the Ranthambore National Park available only to the tourists having the permits at the entrance of Ranthambhore National Park. The foreigners pay an entrance fee of Rs 200; Indians pay a fee of Rs 25, while the Indian students pay Rs 5 only. Additional charges are levied on electronic equipments like cameras and other stuffs.

Within the park, the jeeps can be hired at the entrance to Ranthambhore. The RTDC (Rajasthan Tourism Development Corporation) also organises the truck safaris for tourists.