About Delhi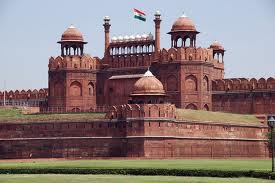 Delhi is the glorious capital of India. The city showcases the rich heritage and speaks volumes about the history of the country,which dates back to the 13th century. Several rulers ruled over Delhi and left behind numerous architectural wonders. The city is divided into Old and New Delhi, each of which has its own share of attractions. Delhi is one city of India where there is no shortage of things to do and see. From history to heritage to culture, Delhi's attractions are plentiful. The fabulous landmarks and monuments are must-see destinations. Delhi is a major political, cultural and commercial city of India. The liveliness of Delhi culture clearly manifests in its theatre, music and dance events, which are hosted in several auditoriums now and then.

SIGHTSEEING PLACES OF DELHI


Chandni Chowk
Chandni Chowk ( Moonlight Square) is opposite the Red Fort and is a market that hubs with activity all through the year. The area was laid out by Shahjahan's daughter, Jahanara. More

Old Delhi
Old Delhi was once known as the city of Shahjahanabad. Shah Jahan established it and made it his capital.

The Ghats
The city has many important political figures'''' souls resting in peace like the Raj Ghat of Mahatma Gandhi, Shanti Van of Jawaharlal Nehru, Shakti sthal of Indira Gandhi and many others Which are located Along t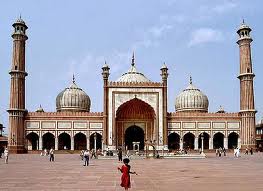 he banks of Jamuna.

Rajpath & India Gate
India Gate, a majestic structure, 42 metres high, is set at the end of Rajpath, perhaps the most beautiful area of New Delhi with plush green lawns in the backdrop.

Humayun's Tomb
This tomb, built for the second Mughal emperor, launched a great Mughal architectural legacy -- even the Taj, which was built by Humayun's great-grandson, was inspired by it.

Old Fort
The ruins of this fort are located on a small hill which once stood on the banks of the Yamuna river.

Safdarjung Tomb
Built in 1753-54 as the mausoleum of Safdarjang, the viceroy of Awadh, (a place near Lucknow, famous for its delicious Mughlai food),under the Mughal Emperor, Mohammed Shah.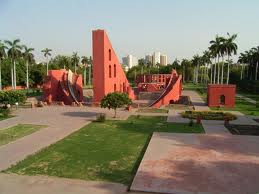 Jantar Mantar
Few minutes walk from Connaught Place is a strange collection of solomon coloured structures. These were built by Maharaja Jai Singh of Jaipur and is actually an observatory.

Red Fort
Red Fort or lal qila as it is more popularly known is a masterpiece of architecture and one of the most haunting spots for tourists from both India and abroad.

Qutab Minar
Qutub Minar, after the Red Fort is the most sought after spot by tourists who come to Delhi.It is 72.5 metres high and one has to climb 379 steps to get to the top.

Jama Masjid
Commissioned by Shah Jahan in 1656, this mosque took 5,000 laborers 6 years to complete and is still the largest in Asia, accommodating up to 25,000 worshippers during holy festivals such as Id.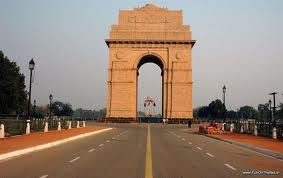 The Bahai Temple
Bahai's Temple Is a very recent architectural marvel of the Bahai faith and is visible from several spots in south Delhi.

Lakshmi Narayan Temple
Lakshmi Narayan Temple Built by the well-known industrialist, R.D. Birla in 1938 , the temple is dedicated to Laxmi ( the goddess of wealth) and Narayana( the preserver).

ISKCON Temple
It stands at Hari Krishna Hill, Sant Nagar Main Road, East of Kailash.The magnificent temple has sikharas at a height of 90 feet above the ground level. The hall of the temple is centrally air-cooled with a capacity to accommodate about 1,500 people.

Chattarpur Mandir
Less than four kilometres away from Qutab Minar is the massive and elegant Chhatarpur Temple with the main temple being dedicated to Goddess Durga. It is a modern building with lots of marble being used and built at a fabulous cost.

How To Reach
By Air: Indira Gandhi International Airport is connected by national and international flights.
By Rail: Delhi is connected to various cites of India by a good railway network.
By Road: Delhi is well connected to all the major cities of North India.