About Corbett :
Corbett National Park has captured the imagination of many with its diverse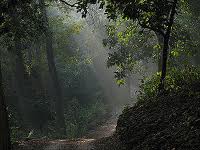 wildlife and breathtaking landscapes. The natural uniqueness of the area was recognised long ago and so in 1936 Corbett attained the distinction as the first national park to be established in mainland Asia.

Corbett National Park lies in two districts – Nainital and Pauri – in the hill state of Uttaranchal in northern India. It covers an area of 521 sq. km and together with the neighbouring Sonanadi Wildlife Sanctuary and Reserve Forest areas, forms the Corbett Tiger Reserve over 1288 sq. km.

Its geographical location between the Himalayas and the terai, and the streams, rivers and ridges crisscrossing the terrain, present Corbett with a remarkable variety of landscapes. This vivid mosaic of habitats – wet and dry, plain and mountainous, gentle and rugged, forests and grasslands – supports numerous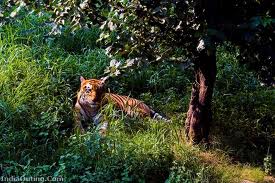 plant and animal species, representing Himalayan as well as plains kinds. The most famous of Corbett's wild residents are the Bengal Tiger and the Asiatic Elephant, but with about 600 species of avifauna Corbett is one of the richest bird regions of India.

Corbett isn't just about Nature. It is also a rich treasure of history and cultural heritage. The park has a long tradition of conservation. The fact that it is the oldest National Park of the Asia and India's first Tiger Reserve itself symbolises that Corbett is a pioneer in efforts at preserving our natural heritage.

The great naturalist-writer Jim Corbett needs little introduction. His writings have fascinated generations of wildlife enthusiasts and he still commands no less appeal nowadays. The areas in and aroun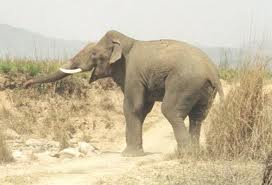 d the present day Corbett National Park were the stage for his exciting adventures in wilderness. Most of his man-eater hunting expeditions also took place in the same areas. Jim Corbett lived in Kaladhungi, where his house has been made into a Museum dedicated to his life and times.

Besides being located at a biogeographic confluence, Corbett National Park is situated at the junction of two distinct hill regions of Uttaranchal – Garhwal and Kumaon. Hence, the Park represents a synthesis of cultures of both these mountain areas.

INFORMATION FOR VISITORS
Corbett has been a haunt for tourists and wildlife lovers for a long time. Tourism is allowed in selected areas of Corbett Tiger Reserve so that people get an opportunity to see its splendid landscape and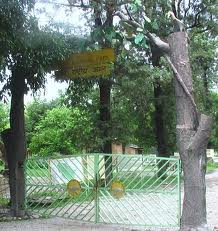 the diverse wildlife living here.

In recent years the number of people coming here has increased dramatically. Presently, every season more than 70,000 visitors come to the park from India and abroad.

General Information
Altitude: 385-1100 m above mean sea level
Annual rainfall: 1400-2800 mm.
Temperature range: 4°C in winter to 42°C during summer.